If you do not own the original Glory Revealed CD that came out in 2007, I urge you with everything in me to go and download it. Right now.
Trevor Morgan's "He Will Rejoice" is one of my favorite songs because it is based on one of my absolute, all-time, favorite verses in the Bible, Zephaniah 3:17.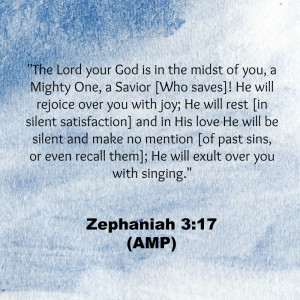 Do you understand that? Do you get it? Does it really and truly sink into the marrow of your bones? Into the core of your soul? Into the center of who you are?
Read that again. Better yet, listen to the song and hear it. I mean it. Stop right now and take a minute or two to meditate on that verse. Do it now, before you read another word.
Get this… The Lord God Almighty, who made absolutely everything, who is high and exalted and seated on the throne in heaven… that very God rejoices over you. He sings over you. He is with you.
Did you do anything to earn it? Nope. Can you do anything to earn it? Nope. Does He rejoice over you and sing over you anyway? Yep. Because He loves you that much.
We don't get it do we? We can't grasp it. Because we are here on earth, we only catch glimpses of that love. But it's there, whether we know it or feel it or not.  God doesn't lie.  And when he says he loves us, he means it… to the point of going to the Cross.
Folks, I can't write words enough to tell you how much God loves you. But please, take a few minutes to sit still at some point today and feel that love, to let Him rejoice over you with singing. To let Him just love on you. Don't talk to Him, don't ask Him for anything, just let Him, for one brief moment, be all about you and His love for you. I promise you won't walk away the same.
-JB