Freefall takes place on Fort Bragg, NC, home of the 82nd Airborne Division which specializes in, you guessed it, parachute assault operations.  If you've never seen a line of C-130s drop hundreds of soldiers over a dropzone before, then you've never really seen the Army in action.  It is an incredible sight to behold.
Here's the thing, though.  Someone has to pack all of those chutes.  Thousands upon thousands of chutes.  Over and over again.  That job falls to a group of men and women who bear some pretty heavy responsibility on their shoulders:  riggers.  With every single chute they pack, they hold another soldier's life in their hands.  That's the kind of pressure I simply can't imagine.
When my husband was helping me brainstorm ways to make this book work, he was the one to suggest the smuggling  operation that became a central plot point.  I had not idea what riggers did every day–other than packing chutes–but I was blessed to spend a couple of hours with CW4 Kelvin Thompson, the Division Parachute Officer for the 82nd back in July 2010.  He stayed late on an early day to give me a behind-the-scenes look at what goes down in the rigger shed.  I learned so much and got to see where Cassy would work every day, doing Chief Thompson's job, as a matter of fact.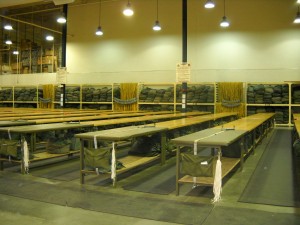 A rigger has a quota to pack each day.  They lay out troop chutes on long wooden tables and inspect every single centimeter to make sure it's still safe to jump. There are several steps to packing, and each step is inspected to insure safety.  Nothing is half done.  Nothing is left to chance.  (In fact, the rigger motto is, "I will be sure always.")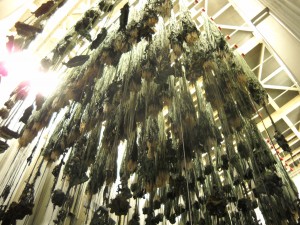 At the rigger shed, I also got a peek at the huge lighted tables where heavy-drop chutes are inspected and packed before being used to drop equipment and the six-story shakeout tower where parachutes are hung to dry.  Massive fans beneath the grated floor constantly circulate air.  It was while I was standing there that one of the major plot points hit me.  Can't wait for you to read that one, because it shocked me too.  🙂
Chief Thompson's office (Cassy's in the book) is upstairs overlooking the floor.  I took a few liberties with  layout, but not too many.  (For example, I wasn't 100% sure where S-4 would be, so I was kind of vague about Cassy going there.)  Chief Thompson did an excellent job walking me through his day and answering a million "stupid" questions with a whole lot of patience.  Believe me, any mistakes you see in Freefall are all mine, likely the result of my horrible handwriting as I took notes and walked at the same time that day.
-JB